HAKUSAN, ISHIKAWA – Nakamura-Tome Precision Industry Co., Ltd. (CEO Shogo NAKAMURA) launch a new function "Smart Tuning", which enables to correct geometric errors of ATC multitasking machines simply and speedy.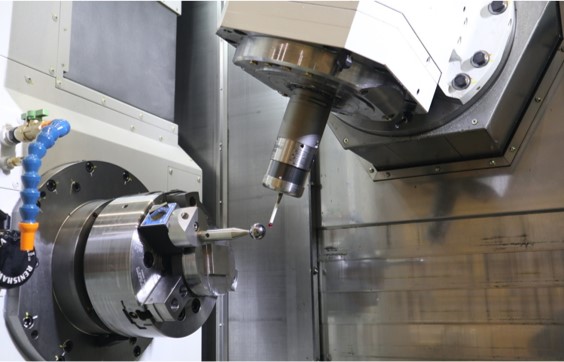 ■Smart Tuning features
The Smart Tuning is a feature that can correct geometric errors easily when it occurs due to secular change or when you perform high-precision machining.
The correction will be performed as you set a reference sphere and use Nakamura-Tome's automatic measuring system HAN-BEI, and operate the machine following to the guidance.
It is available to tune for a total of 10 types of geometric errors including the rotating center position error of tool spindle, which will improve the precision of processing.

Before we develop the Smart Tuning, the correction of geometric errors required Nakamura-Tome's engineering support. However, by using the Smart Tuning, customer's operators will be able to correct the errors without Nakamura's support. This progress enables the operators to tune the geometry on periodical maintenance, and to maintain the machine in high-precision condition all the time.
Youku for viewers in mainland China: https://v.youku.com/v_show/id_XNTg5MTQ4OTM4OA==.html
■Development background
In order to achieve high-precision machining, resolving slightest geometric errors is an essential key point. Moreover, geometric error problem caused by gradual change is unavoidable. However, the correction of geometric errors was a difficult task and it took a lot of time to make adjustment so far.
To solve these problems at once and reduce customer's burden, we developed the Smart Tuning.
■Ask Nakamura-Tome
Nakamura-Tome welcomes any question and inquiries. Please feel free to contact us via the link below.
【Corporate Information】
Company: Nakamura-Tome Precision Industry Co., Ltd.
Address: Netsuno 15, Hakusan city, Ishikawa, 920-2195 Japan
CEO: Shogo NAKAMURA
Established: December, 1960
Website: https://www.nakamura-tome.co.jp
Business details: Multitasking machine, combined precision CNC lathe
【Reference】
Sales Promotion Department
Nakamura-Tome Precision Industry Co., Ltd.
Phone:076-273-1111
E-mail:nt-mktg@nakamura-tome.co.jp