Environmental Policy
ISO14001

Environmental Policy
At Nakamura-Tome Precision Industry Co., Ltd. we aim to actively contribute to society through ongoing environmental conservation activities, in accordance with our management principles.
In addition to abiding by environmental laws and regulations, we will, within the range of technological and economic feasibility, set voluntary standards, and engage further in environmental preservation as the need arises.
We accurately grasp the impact of our business activities on the environment, and work on environmental protection and pollution prevention. Through efforts such as moving away from a paper-based system, we are promoting resource and energy conservation. We also strive to create an environment free of harmful substances, to prevent pollution, and to promote waste reduction and recycling.
Evaluate the effectiveness of the environmental activities every fiscal year, review the targets and aim for further improvement of "environmental conservation activities" using "continuous Kaizen" process.
Oct.2018
Nakamura-tome Precision Industry Co.,Ltd.
C.E.O.(President)
Kenichi Nakamura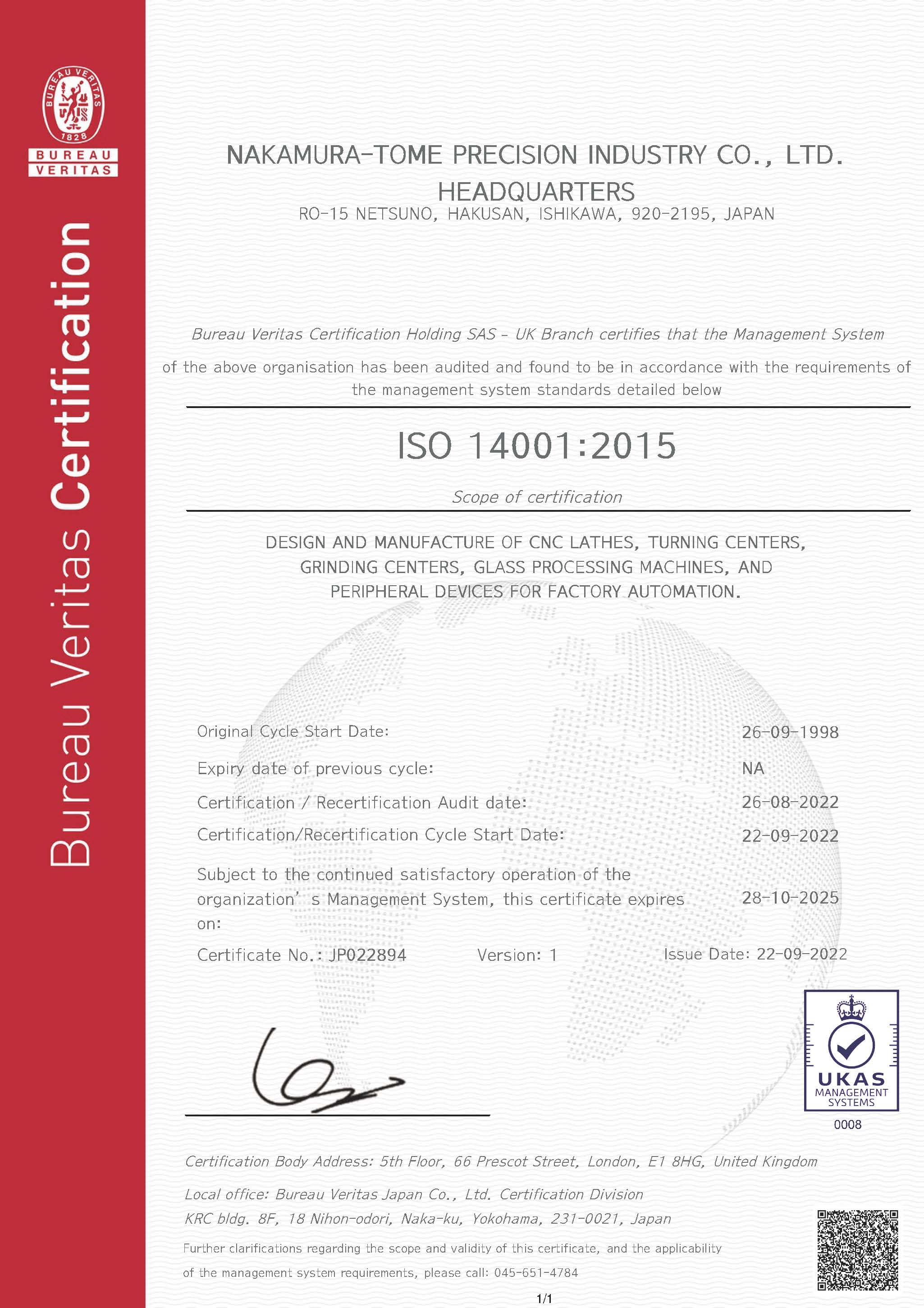 ISO14001. Introduction
Nakamura-Tome Precision Industry Co., Ltd. established an environmental management system in the spring of 1998, and started carrying out activities towards ISO 14001 accreditation. As a result, we received accreditation from the London-based review organization Bureau Veritas Quality International (BVQI) on September 26, 1998. We were the sixth company in the Japanese machine tool industry and 12th company in Ishikawa to be accredited (based on data from August 1998).
Certification date:
Sept. 30 2000
Accreditation organization:
BUREAU VERITAS
Future activities
In the future, we will continue to improve environmental activities by fulfilling the ongoing goal-oriented environmental program, and firmly establishing the environmental management system. We will contribute to the local community by promoting environmentally-friendly activities, and by being active in that regard from the design stage, we are aiming to provide the world with eco-friendly products, which fulfill the wishes and expectations of a wide range of users.