Quality Policy
At Nakamura-Tome Precision Industry Co. Ltd, our management philosophy is aiming to contribute to society by providing customers with reliable products and services.
In addition to complying with laws and regulations, and meeting customers requirements, we are continuously working to improve the effectiveness of our quality management systems.
After quality objectives are set and enacted, the results are continuously checked and reviewed by a well established management system.
Everyone involved in providing our products and services, understands and ensures that quality standards are implemented.
Quality standards are reviewed and updated not only regularly, but also according to social trends and to the changing business environment.
February, 2022
Nakamura-tome Precision Industry Co.,Ltd.
C.E.O.(President)
Shogo Nakamura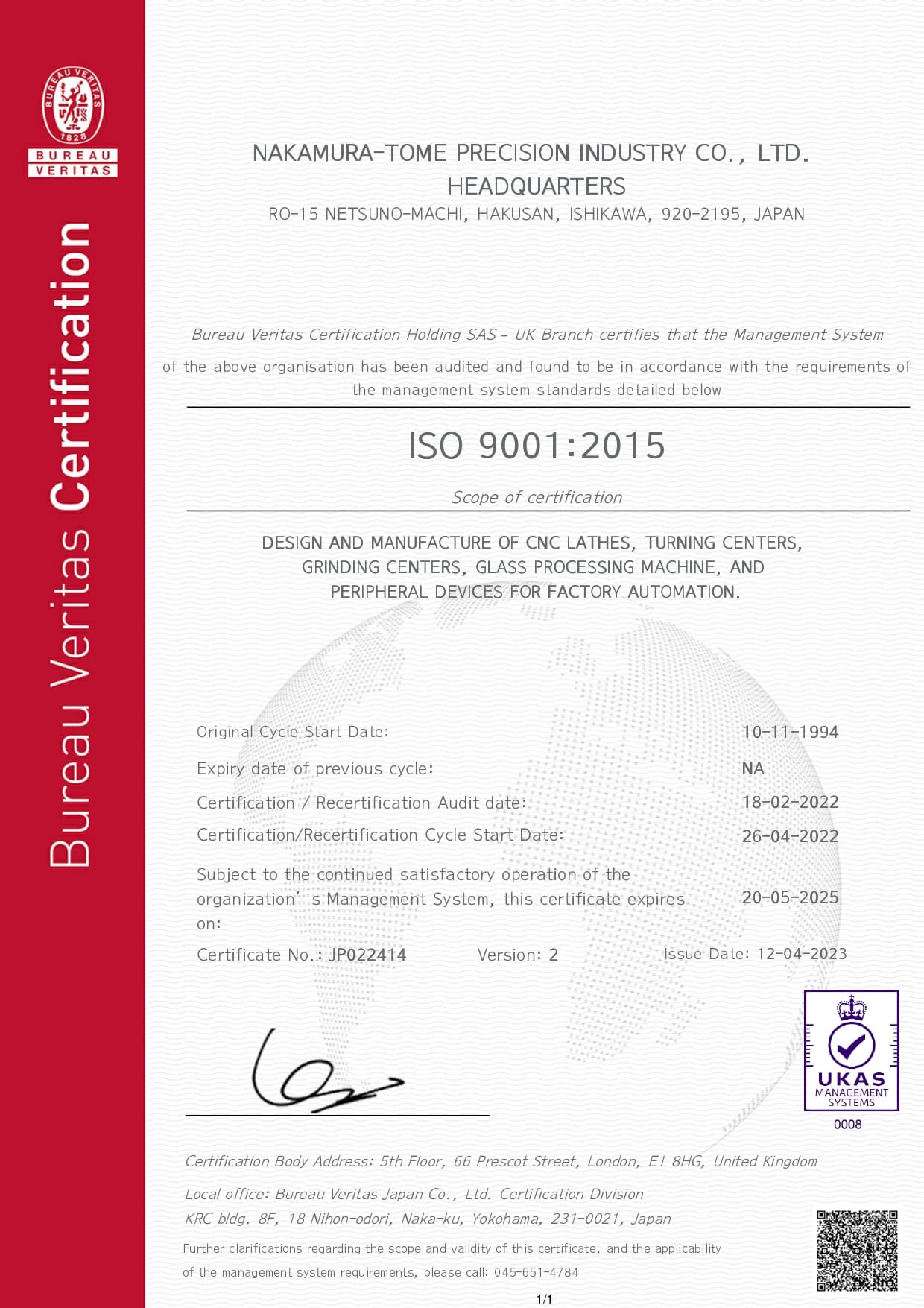 ISO9001, A First for the Machine Tool Industry
At Nakamura-Tome Precision Industry Co., Ltd., we have set our own quality standards, with the aim of ensuring that our customers are entirely satisfied with our machine tools and services. Our efforts in this regard have been recognized on November 10, 1994, when we met the requirements of the British international review organization BVQI for the international quality assurance standard ISO9001-1994. The certificate was received from from the British organization NACCB and the Dutch organization RvC. It was the first such an achievement for a machine tool manufacturer in Japan. The ISO9001-1994 standard covers not only design and development, but also manufacturing, sales and service. Authentication from BVQI, one of the most authoritative of the many review organizations, gave our product quality system international recognition. Encouraged by this success, we will work even harder in the future to manufacture products that satisfy our customers and gain their trust.
Certification date:
Nov.10 1994
Accreditation organization:
Bureau Veritas