We are pleased to announce that the whole picture of the new ATC multitasking machine "JX-200" is published. The concept is an ATC multitasking machine that generates good products stably with high accuracy regardless of materials and shapes.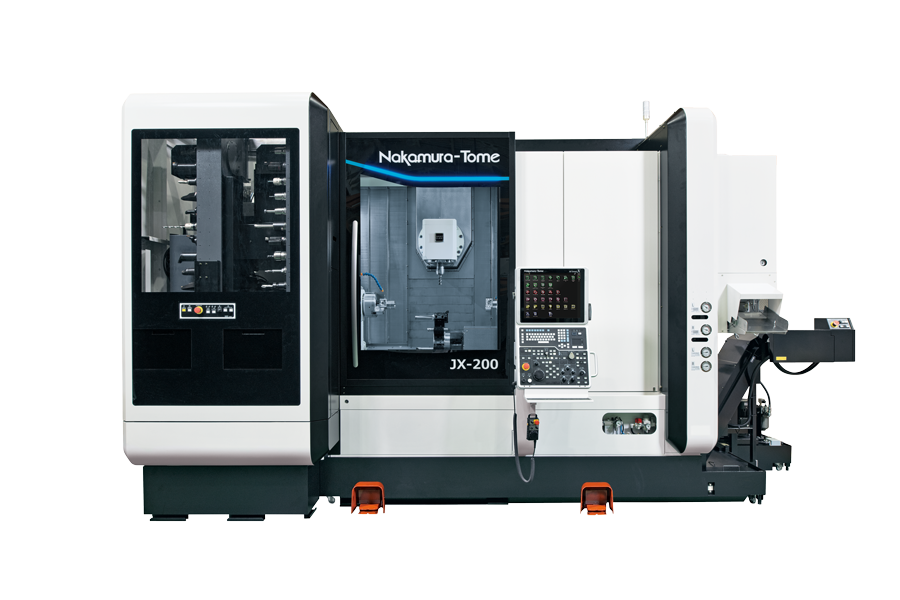 With this announcement, the product video is also released.
Please appreciate the real JX-200 from the video below.
Title: [New Machine] JX-200 | Change the IMPOSSIBLE to POSSIBLE
Youku for viewers in mainland China: https://v.youku.com/v_show/id_XNTg3NTE2OTg4NA==.html
■Product Information
https://www.nakamura-tome.com/products/jx-200/
■Features of the JX-200
・Equipped the world's shortest tool spindle "NT Smart Cube" in its class
・Tool spindle motor output: 15/11kW
・Tool spindle speed: 12,000min-1(op. 18,000min-1)
・Number of ATC tools: 80pcs(op. 40, 120pcs)
・Milling motor output on a lower turret: 5.5/3.7kW
 *The lower turret is equipped with milling and Y-axis as standard
 *Milling speed: 6,000min-1(op. 8,000min-1)
・Increased stability thanks to a heavy-duty column structure
・Floor space: 2,925mm×5,250mm(incl. a standard coolant tank)
・Enriched software line-ups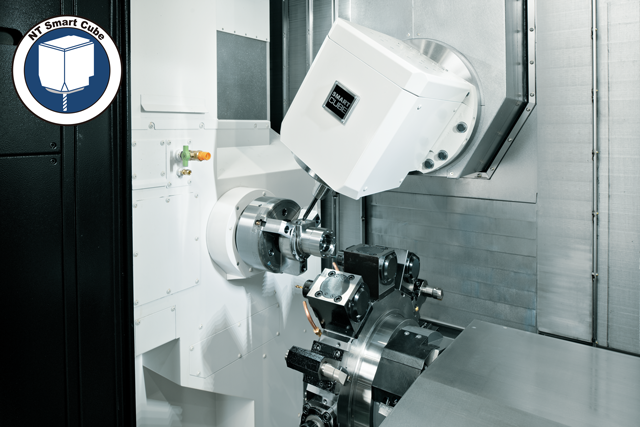 Since the JX-200 is equipped with the world's shortest tool spindle "NT Smart Cube", a wider machining area is ensured in an efficient manner and it improves work performance drastically.
The existence of the tool spindle that swivels from -95 degrees to +95 degrees and the lower turret with Y-axis makes the machine applicable to any workpieces flexibly.
In combination with the tool spindle and the lower turret, the machine fits several machining methods such as simultaneous machining with L/R spindles, upper/lower tools, and machining with a center support mounted on the lower turret.
In order to realize the stable machining of any materials and shapes, a new column structure is adopted to the JX-200. It enables to optimize the center of gravity and becomes very strengthened against loads from any direction.
Since any operations such as turning, milling, drilling, and gear cutting are possible with this "All in One Go" machine, the JX-200 will contribute to a wide variety of product making in different manufacturing fields.
■Background of the development
Along with the increasement of needs for high-mix low, customers have voiced their desire for "more flexible machining" and "more parts production" with a single machine.
In response, we developed the JX-200, a new ATC multitasking machine that can accommodate a larger number of tools and can handle multiple types of small-lot production.
■Comment from Shogo Nakamura/CEO
The JX-200 is an ATC multitasking machine that changes the IMPOSSIBLE to POSSIBLE.
Many customers have asked for a multitasking machine that can operate stably for a longer period of time and provide accuracy regardless of the material.
In order to respond to the requests, we discussed over and over across the sections of mechanical design, control design, application engineering, service engineering about how to make a machine that is not only easy to use for customers, but also showing high machining performance. Then, the JX-200 was born.
In addition to the internal design of the column and frame structure, the exterior of the JX-200 has a simple but attractive design.
We hope you will enjoy our new flagship model.
■Consultation with Nakamura-Tome
Nakamura-Tome welcomes any inquiries from customers not only about the JX-200, but also about other products and machining methods. Please feel free to contact us via the link below.
【Corporate Information】
Company: Nakamura-Tome Precision Industry Co., Ltd.
Address: Netsuno 15, Hakusan city, Ishikawa, 920-2195 Japan
CEO: Shogo NAKAMURA
Established: December, 1960
Website: https://www.nakamura-tome.co.jp
Business details: Multitasking machine, combined precision CNC lathe
【Reference】
Sales Marketing Section, Sales Promotion Department
Nakamura-Tome Precision Industry Co., Ltd.
Phone:076-273-1111
E-mail:nt-mktg@nakamura-tome.co.jp