1949
Tomeo Nakamura started an enterprise in Kanazawa city
Tomeo Nakamura, the founder of Nakamura-Tome Precision Industry, retired from working in textile machinery, and after 2 years, he founded "Nakamura-Tome Iron Works" in 1949 with his wife. At the beginning, there were only a turning center and a drillling machine in the factory.The ironworks, that started businees as a sub-sonctractor, had a good start, and the numbers of workers and machines increased as time went by. In 1956, they moved the factory to another location for expanding business. At that time, there were around 60 workers.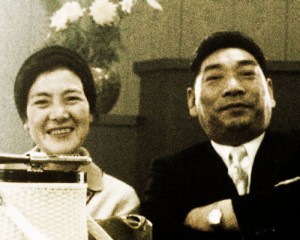 12/1960
Nakamura-Tome Precision Industry Co., Ltd.was founded by Tomeo Nakamura
In order to progress from a job shop to a manufacturer, a new organization was establised and its corporate name was renamed to Nakamura-Tome Precision Industry Co., Ltd. Tomeo Nakamura took office as President. The unique name Nakamura-Tome took root in the market and in society, and its products dominated in both domestic and international markets.
In 1962, the first product, a hydraulic groove turning center, was announced. Nakamura-Tome made steady steps as a machine tool manufacturer.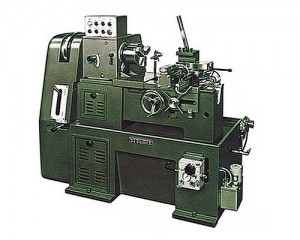 6/1965
Hydraulic automatic turret lathe announced
As business expanded, the number of employees and that of equipement were increased, and there was no more space in the factory. In 1963, the factory was moved to the current location and product development reached another turning point. During this year, the first hydraulic automatic turret lathe, whose development was started in the former factory, was born.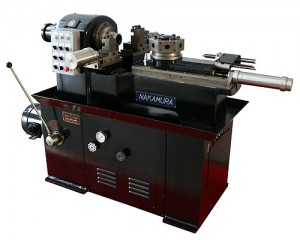 6/1972
Automatic Lens Grinding Machine announced
This optical machine (automatic lens grinding machine) was announced after a year and a half of research and development, got a great response as a micron-unit-accuracy machine, and was highly publicized.
In 1972, the Medium and Small Business Research Institute awarded Nakamura-Tome for the first time in Ishikawa prefecure, in recognition for high achievements in developing the hydraulic automatic turret lathe and automatic Lens Grinding Machine, for having a good harmony in the company, and for making efforts in establishing an administration system,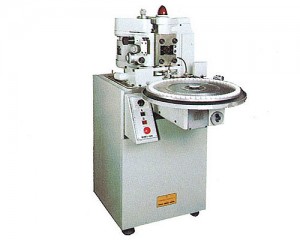 10/1974
NC Precision Turning Center announced
The first NC Turning Center ATM-4M developed in 1974 was released at the 7th JIMTOF held in Osaka in October 1974. The ATM-4M, developed by Nakamura-Tome comprehensive technology, received a lot of attention and was praised by specialists.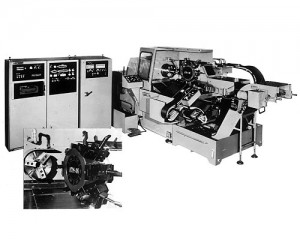 10/1975
Establised overseas offices in the United States and West Germany
In 1971, a ceremony for shipping the ATM to U.S.A. and Australian markets was held. In 1975, service stations were opened in Chicago and Los Angeles U.S.A., as well as in Hamburg, Germany.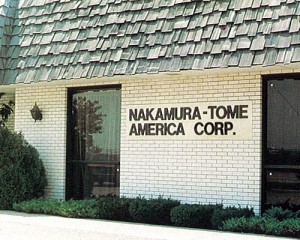 4/1982
CNC Integrated Center (machining and turning) announced
In 1982, CNC Integrated Center TMC-5LAM was exhibited at the 20th Ishikawa Modern Machinery Exihibition.
The machine attracted a lot of attention as a machine developed for streamlining, especially for diversified small lot production.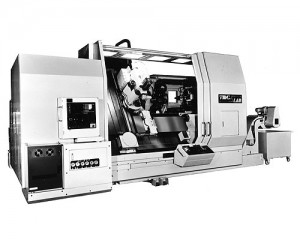 5/1983
Had the honour of the visit of the Emperor of Japan to the factory.
On the occasion of National tree-planting ceremony held in Ishikawa, the Emperor of Japan visited Nakamura-Tome factory.He looked very interested in the company's new products and manless factory, which were introduced by Tomeo Nakamura, the former president. A memorial garden, called Memorial Park, with trees and a statue, are in front of the head office.
Nakamura-Tome had also the honour of the visit of Prince Takamatsu in 1968. Additionally, Tomeo Nakamura had the honour of receiving the 'yellow ribbon' in 1980 as well as an invitation from the emperor of Japan for the garden party.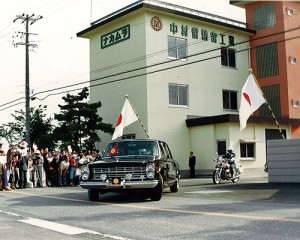 9/1985
Customer-Friendly FA series announced
Customer-Friendly FA series, realizing lavor-saving and easy automation even in small factories, were introduced.
Since Customer-Friendly FA series were introduced at the Osaka International Machine Tool Fair in 1986, they made their way through into the market. They were praised for achieving a drastic reduction of production costs, which led to a substantial increase in sales figures.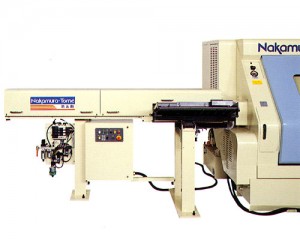 4/1988
Twin-spindle Twin-turret CNC turning center, TW machine series completed
By launching the Twin-spindle Twin-Turret Precision CNC turning center TW-20 onto the market, it became possible to perform simultaneous one-hit machining. The Highly-efficient and highly- accurate TW20 machine became a best-seller on a global level, and a base for the later development of WT series and Super NT series.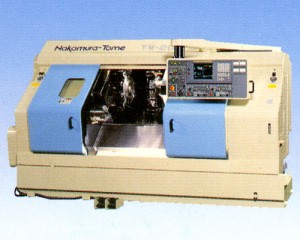 5/1988
Kenichi Nakamura was inaugurated as President
Tomeo Nakamura took office as Chairman, and Kenichi Nakamura was promoted to President.
While keeping in line with company climate and policies established by the former president, aiming at embracing change through flexibility, made Nakamura-Tome enter a new period of challenges and breakthroughs.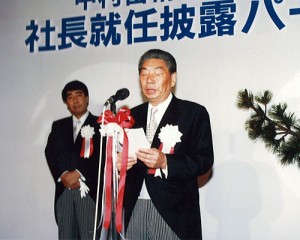 4/1993
LCD Panel Products announced
Nakamura-Tome also focused on developing machinery in the field of glass processing technology. By announcing the LCD Glass Grinding system NCF-500 in 1993, Nakamura-Tome expanded business as glass proccessing machine manufacturer.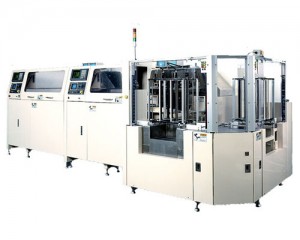 11/1994
Accredited with ISO9001 from BVQi
In December 1993, the project for getting ISO9001 was started, and in November in the next year, Nakamura-Tome was accredited with ISO 9001 from BVQi.
Nakamura-Tome ISO9001 certification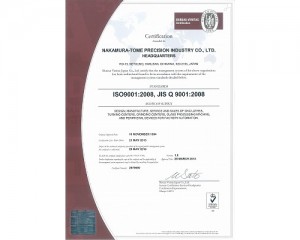 9/1998
Accredited with ISO14001 from BVQi
In April 1998, action was started to establish environmental management systems, and in September the same year, accreditation with ISO14001 from BVQi was granted.
Nakamura-Tome ISO14001 certification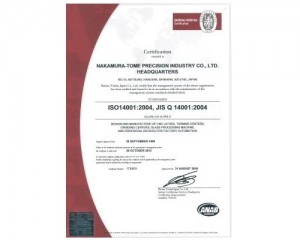 11/1998
Nakamura Forest completed - 50th year celebration.
Tree-planting ceremony was held at Nakamura-Forest in celebration of the company's 50th year since its establishment. After Mr.Nakamura's speech, all the employees planted 420 trees.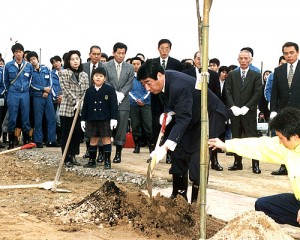 5/2000
Super Multi-Tasking Machine STW-40 announced
Based on the high-productivity of the TW series, the Super Multi-Tasking STW-40 was introduced as a machine, combining the capabilities of a both a turning center and a machining center. Having twin-spindles, twin-turrets, a tool spindle and ATC, the STW-40 gained a high reputation as a multitasking all-in-one machine.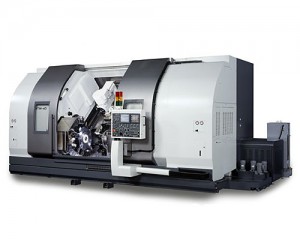 9/2000
Accredited with OHSAS18001 from BVQi
In order to improve occupational health and safety for all employees, company-wide preparations were started in April 2000 to get OHSAS 18001 certification, and in September of the same year, Nakamura-Tome was accredited with OHSAS18001 from BVQi.
Nakamura-Tome OHSAS18001 certification
5/2005
Kenichi Nakamura was inaugurated as chairman of Japan Machine Tool Builders' Association.
Kenichi Nakamura was inaugurated as chairman of Japan Machine Tool Builders' Association, which represents domestic machine tool manufacturers in Japan. He was charged with this duty at the helm of the Japanese Machine-Tool Industry, which takes pride for not only being at the forefront of technology, but also leading world production for over 25 years.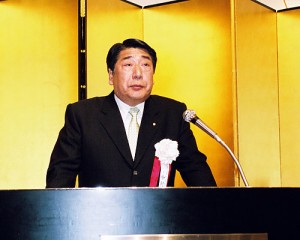 11/2006
Assembly Plant 11 completed
The building consists of a showroom and a state-of-the-art assembly plant.
New assembly plant was completed. We display some sample parts and show its machining operations in a screen to appeal to the guests with our cutting-edge technologies. The plant has assembly area, show room and evaluation experiment room.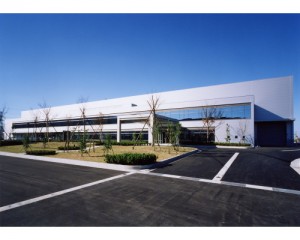 9/2008
SuperMill series won MM award for turning center at AMB 2008
Multitasking machine series SuperMill won MM award at AMB 2008, an exhibition in Germany.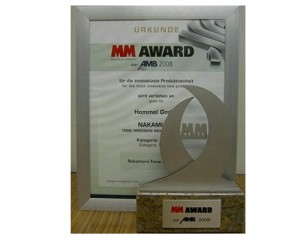 11/2008
A party of the Japan Business Federation visited Nakamura-tome factory.
About 30 people from the Japan Business Federation and the Hokuriku Economic Federation, including Chairman Mitarai of Canon Inc., visited.
We were given the words, "We are playing an active role mainly overseas as a top runner of multi-tasking machines and contributing to the sophistication of the Japanese machine tool industry."
We were also fortunate to have them take a look at the lens processing machines that are in use at Canon's factory.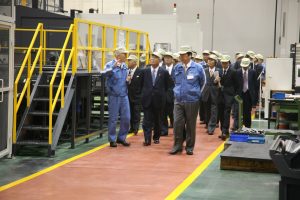 4/2010
Cover glass processing machine NMPG-150 launched
We entered into cover glass market by launching a new glass processing machine, NMPG-150.
The model was developed with the increasing needs of cover glass for smartphone.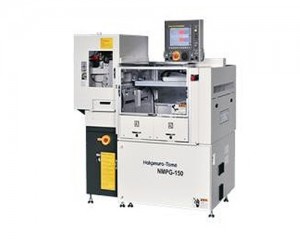 10/2011
Ishikawa Manufacturing Industry Heritage
Automatic turret lathe NT-5 was certified as Ishikawa Manufacturing Industry Heritage. The one in the picture, manufactured in 1963, is now displayed at the entrance of our main building.
The model was a great hit, selling 5,000 units until 1986, when it went out of production.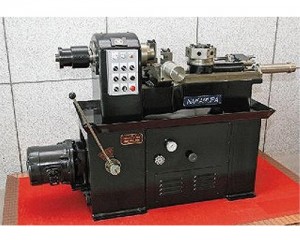 10/2012
Nakamura-Tome Korean Factory
Nakamura-Tome Korean Factory was completed.
It is a modern factory located in Daegu city and has 19,000m2 of site area and 5,230m2 of building site.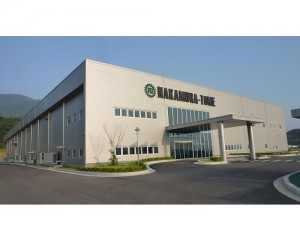 12/2015
Assembly Plant 12 and Processing plant completed
New assembly plant is the 12th factory in Nnakamura-tome.
With a total floor area of 5781 square meters, the office/utility area has a measuring room separated by a glass partition on the first floor, an assembly office overlooking each factory and a training room for 50 people on the second floor.
We have also completed a large-scale processing plant and are introducing 5-face processing machines to increase processing capacity.
The air conditioner has an outlet at a height of about 6 m above the ground to control the temperature difference within ±1°.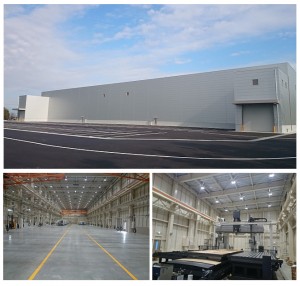 12/2018
The welfare hall completed
The welfare hall, which consists of an auditorium for the entire morning assembly on the first floor and an employee cafeteria on the second floor, has been completed.
It has a two-story steel frame, a total floor area of 2200 square meters, and an open space surrounded by glass. The cedar wood from Ishikawa Prefecture is used for the ceiling, and the design is inspired by Mt.Hakusan.
A new place for relaxation has been completed, and all employees are very happy.