Nakamura-tome Precision Industry Co., Ltd. is pleased to announce the addition of the "Chatter Canceller" function to 30 of its products as a standard feature.
By incorporating the Chatter Canceller function, chattering can be suppressed without significantly reducing machining conditions, and in addition, surface roughness can be prevented from deteriorating, and tool life can be reduced and damage can be prevented.

【Background】
We have received many concerns from our customers regarding chattering during machining. In the cutting process, chattering causes deterioration of surface roughness, reduction of tool life, and damage, and we have been looking for a solution to this problem.
This time, we approached the chattering phenomenon from a different perspective, and as a result of repeated in-house experiments, we were able to confirm the effectiveness of chatter suppression, which led us to incorporate the function into 30 models.
【What is Chatter Canceller?】
Chatter Canceller is a function that suppresses the occurrence of chatter by periodically changing the spindle rotation. (*1)
Normally, when chattering occurs, measures are taken to suppress chatter by reducing the machining conditions, but Chatter Canceller has less impact on the machining time than measures to reduce the machining conditions.
Chatter control can be commanded by adding two lines of M code, minimizing the burden on the operator.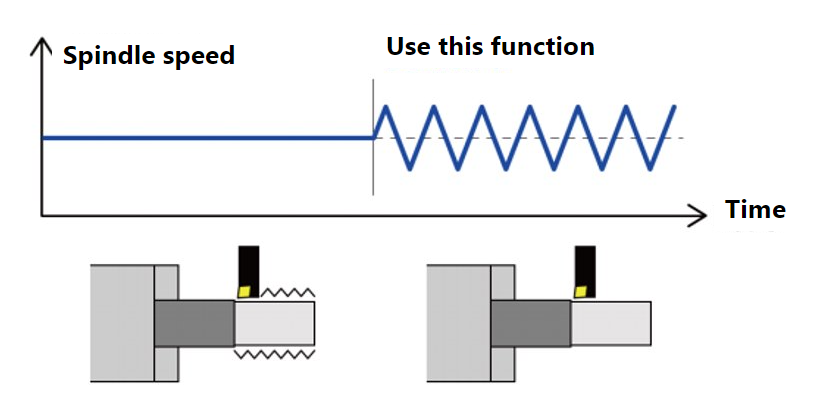 【Developer's voice】
We believe that chattering is a great enemy for those who are engaged in machining. The good thing about this function is that it can be easily executed by anyone with only two lines of M-code, so we would be very happy if our customers could use it and feel the effect. We have conducted many experiments in our company, so if you have any problems, please contact us first.
>
【Consultation with Nakamura-Tome】
Nakamura-Tome accepts inquiries from customers. Not only do we accept inquiries about vibration care, we also accept inquiries about products and processing.
Please feel free to contact us via the link below.
(*1)Not all chattering phenomena can be suppressed by this function.