HAKUSAN, ISHIKAWA – Nakamura-Tome Precision Industry Co., Ltd (President Ken'ichi NAKAMURA) developed a tool-setting support function "Geometry Navigator". This function automates a part of the conventional method to measure the tool geometry and enables any operators to set up the geometry offset easily.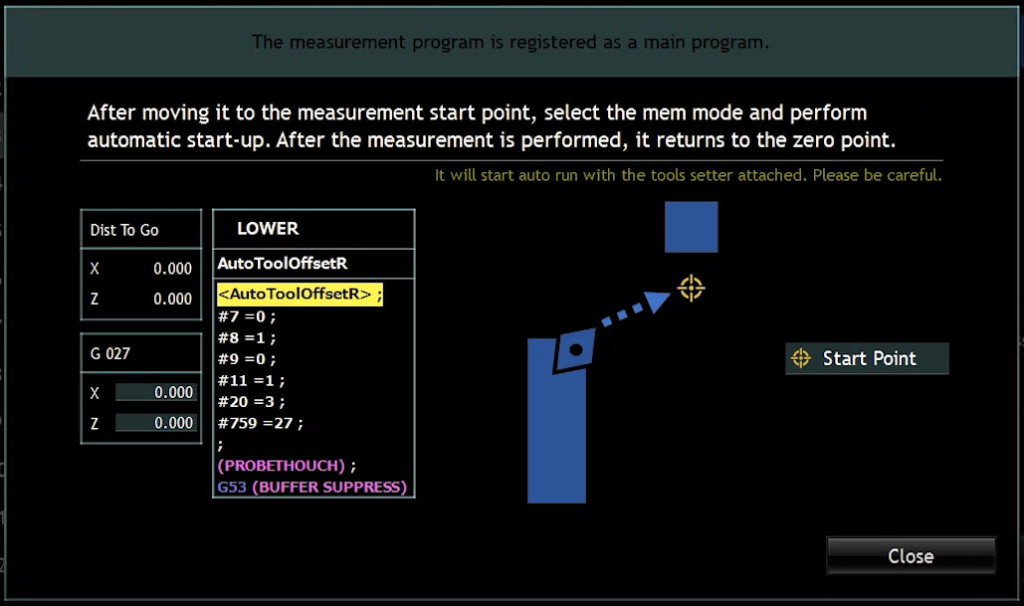 ■ Outline of the Geometry Navigator
The Geometry Navigator is a function to support operators by showing the guidance of a whole process to set the geometry offset by a tool setter, and automates all tool setup motion except for approaching at the beginning. Anyone is able to set tools easily and quickly because what the operators need to do is to operate a NC panel according to the guidance.
Therefore, not only skilled operators but also unexperienced operators who are not used to work on the tool setting can work securely. Our study from trial runs by an unexperienced operator shows that this function achieved to reduce the setting time by about 45% when comparing the tool setting with and without the Geometry Navigator.

■ Comment from COO Shogo Nakamura
When we use a machine tool, we have to set up tools and in this tool setting, the most requested function from customers to improve the efficiency of work is the process to measure and input geometry offsets.
This process has been proceeded manually by touching a tool to a tool setter, but there are some problems that operators forget to measure some tool geometries or unexperienced operators take much more time to measure the tool.
The Geometry Navigator aims to have anyone complete the setup quickly, easily and accurately by partially automating the work of measuring the tool geometry that is conventionally done by using a manual tool setter.
I would like many people to use the Geometry Navigator to ease the tool setup occurring on a daily basis.
■ Consultation with Nakamura-Tome
Nakamura-Tome welcomes any inquiries from customers not only about the Geometry Navigator but also about our products and machining. Please feel free to contact us via the link below.
■ Corporate Information
Company: Nakamura-Tome Precision Industry Co., Ltd.
Address: Netsuno 15, Hakusan city, Ishikawa, 920-2195 Japan
President: Ken'ichi NAKAMURA
Established: December, 1960
Website: https://www.nakamura-tome.co.jp
Business details: Multitasking machine, combined precision CNC lathe
■ Reference
Sales Marketing Section, Sales Promotion Department
Nakamura-Tome Precision Industry Co., Ltd.
Phone:076-273-1111
E-mail:nt-mktg@nakamura-tome.co.jp