HAKUSAN, ISHIKAWA – Nakamura-Tome Precision Industry Co., Ltd. (President Shogo NAKAMURA) started to provide new membership service named "NT Update", that is available to update current machine software in use to the latest version free of charge.
The latest software is downloadable after the resistration of membership. Nakamura-Tome machine users will experience the evolution of our software and the improvement of productivity through NT Update.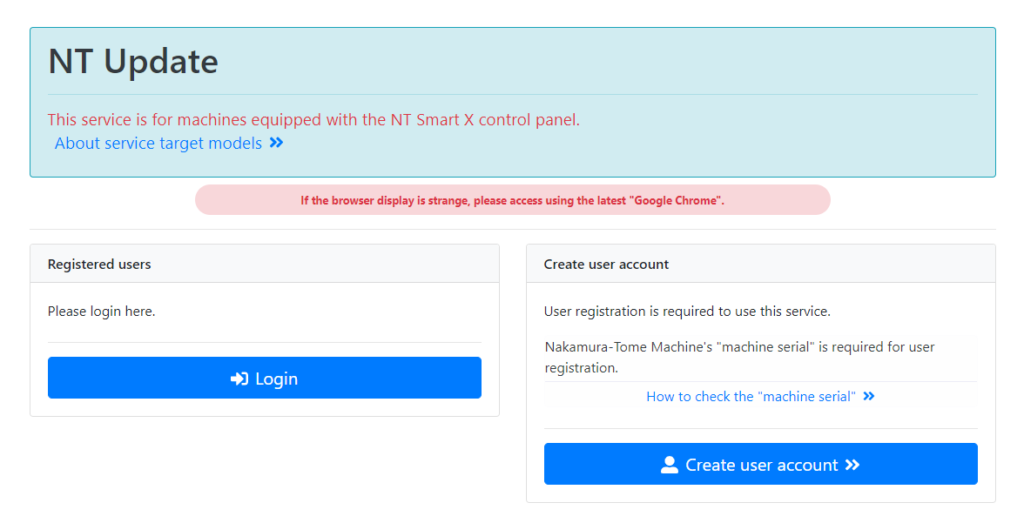 ■Outline of NT Update
NT Update is a free software update service available to Nakamura-Tome machine users registered to the membership. Users are able to utilize the most up-to-date software by downloading from the membership website (https://www.nt-update.com/SoftwareUpdate/) and install to the machine currently in use.
We hope the users experience the evolution of Nakamura-Tome's sofware!
■Registration
https://www.nt-update.com/SoftwareUpdate/
■Background of Development
We have always been actively involved, not only in machine development but also in software development, in order to support our customers from the software aspect of usability. We decided to start this service to contribute the improvement of customer's productivity by providing with the latest software on a constant basis. Even without purchasing a new machine with newly developped software, they are able to access the latest software anytime.
■Introduction Video
https://youtu.be/b5LbPzVcr2M
■Inquiry for NT Update
https://www.nt-update.com/SoftwareUpdate/inquiryForm/inquiry
■Inquiry for Other Products or Software
https://www.nakamura-tome.com/contact_product/
■Consultation with Nakamura-Tome
Nakamura-Tome appreciates for customer's voice. Please feel free to contact us if there are any concerns to functions or products.
【Corporate Information】
Company: Nakamura-Tome Precision Industry Co., Ltd.
Address: Netsuno 15, Hakusan city, Ishikawa, 920-2195 Japan
CEO: Shogo NAKAMURA
Established: December, 1960
Website: https://www.nakamura-tome.com
Business details: Multitasking machine, combined precision CNC lathe
【Reference】
Sales Marketing Section, Sales Promotion Department
Nakamura-Tome Precision Industry Co., Ltd.
Phone:076-273-1111
E-mail:nt-mktg@nakamura-tome.co.jp