Nakamura-Tome Precision Industry Co., Ltd. (Hakusan city, Ishikawa prefecture, President: Kenichi Nakamura) is pleased to announce that seven of its multitasking machines can be equipped with oscillating cutting function as an optional feature. By incorporating this oscillating cutting function, it is possible to prevent chips from being tangled around the tool and workpiece. This will reduce the number of scrap parts and reduce machine downtime.
NTY³-100, NTY³-150, WY-100II, WY-150, MX-100, WT-100 and WT-150II machines can be equipped with the oscillating cutting function.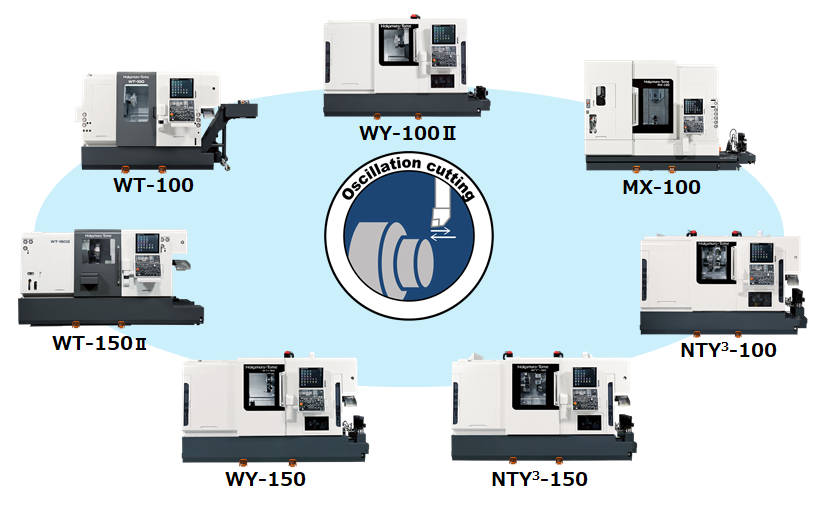 ■Click here for the detailed page
https://www.nakamura-tome.co.jp/en/oscillation_cutting/
■What is oscillating cutting?
Oscillating cutting is a cutting method to oscillate the tool in the cutting direction by servo control and cut chips into small pieces. The oscillation of the tool creates air-cut area, which cut chips into pieces.

■Background
Since we have been promoting the automation of our machines, they have been installed by many of our customers who make mass production. In the process, we have received many requests of this software development from customers who want to solve chip problems.
To meet this demand, we conducted a series of experiments on oscillating cutting. After the experiments, we confirm its effectiveness, and that led to the development of oscillating cutting as new option.


■Advantages of oscillating cutting
The use of oscillating cutting prevents the chips from tangling around the tool and workpiece and improving the chip-flow. This reduces the number of scrapped parts and reduce machine downtime, which leads to higher productivity.
Another attractive feature of the oscillating cutting function is that it is easy to program by using just a G code command.


【Company Profile】
Company name: Nakamura-Tome Precision Industry Co., Ltd.
Location: Ro-15 Netsuno, Hakusan city, Ishikawa prefecture JAPAN
Representative: Kenichi Nakamura, President
Establishment: December, 1960
URL: https://www.nakamura-tome.co.jp/en