Nakamura-Tome Precision Industry Co., Ltd. (Hakusan city, Ishikawa prefecture, President: Kenichi Nakamura) is pleased to announce that seven of its multitasking machines can be newly equipped with oscillating cutting function as an optional feature. This brings the total number of available models to 14. By incorporating this oscillating cutting function, it is possible to prevent chips from being tangled around the tool and workpiece. This will reduce the number of scrap parts and reduce machine downtime.
In addition to the existing NTY³-100, NTY³-150, WY-100 II, WY-150, MX-100, WT-100 and WT-150II, the JX-250, NTJ-100, NTY³-250, WY-250, WY-250L, NTRX-300 and NTRX-300L will be newly equipped with oscillating cutting.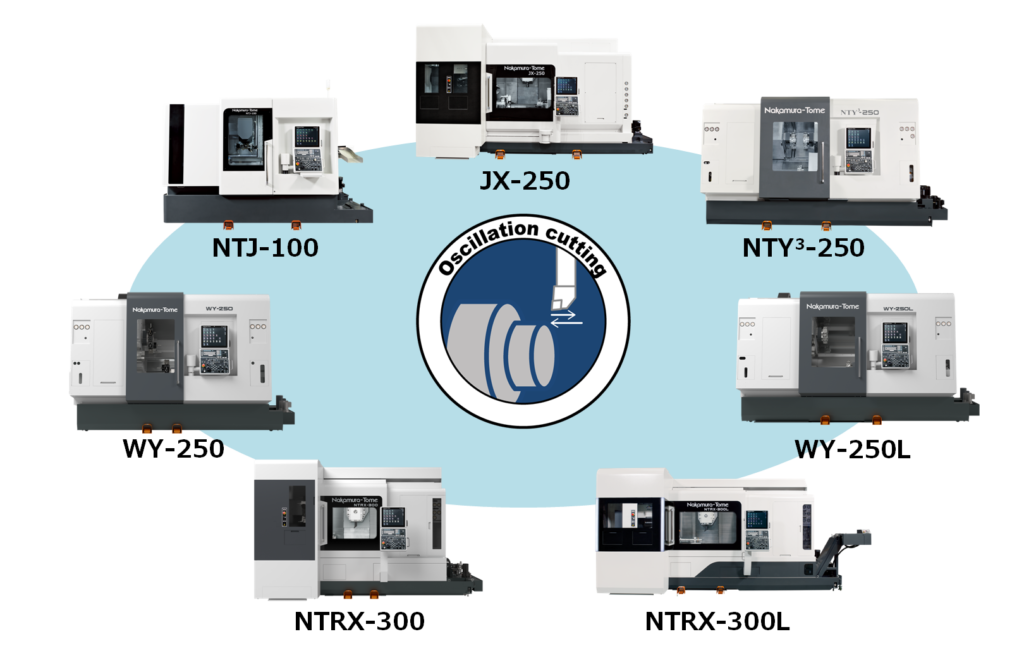 【What is oscillating cutting?】
Oscillating cutting is a cutting method to oscillate the tool in the cutting direction by servo control and cut chips into small pieces. The oscillation of the tool creates air-cut area, which cut chips into pieces.


【Background】
The oscillating cutting function was originally a technology that was mainly used on automatic machines. For this reason, its use on large machines with a maximum diameter of 600 mm or more, such as the NTRX-300L, is an advanced example in the world.
Both large and small machines are subject to the same problems of chip roll. Especially on machines with ATC, tool changes with chips wrapped around the tool are more likely to lead to downtime, e.g. alarm stops.
This is why we have repeatedly experimented with machines that are designed to be automated for longer periods of time.
Actual machining tests have been carried out to verify the risks involved, including the risk of reduced component life. The results showed that the risks were lower than expected and that they could be reduced by adjusting the conditions.
This led to the expansion of the number of models equipped with this technology.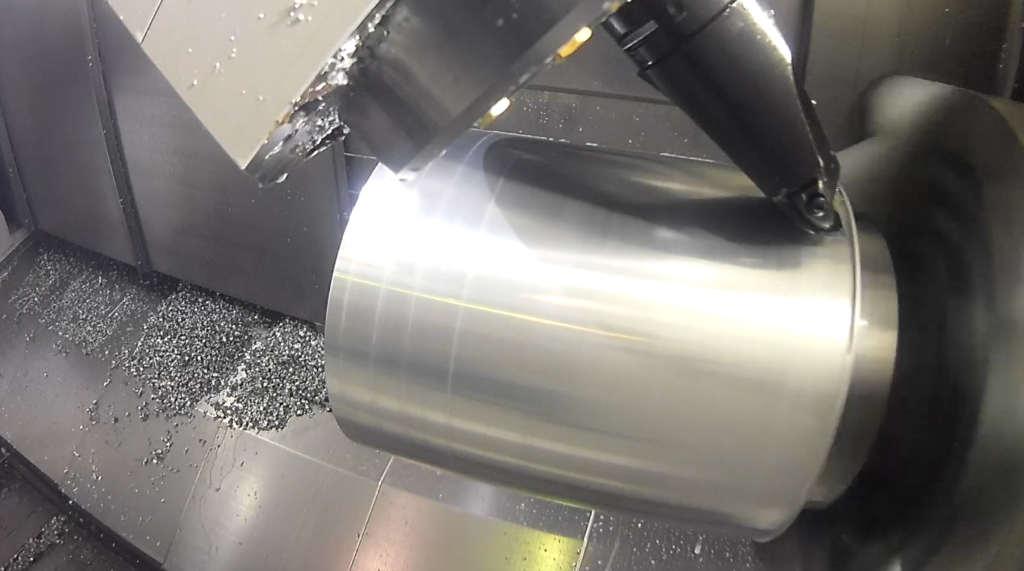 【Advantages of oscillating cutting】
The use of oscillating cutting prevents the chips from tangling around the tool and workpiece and improving the chip-flow. This reduces the number of scrapped parts and reduce machine downtime, which leads to higher productivity.
Another attractive feature of the oscillating cutting function is that it is easy to program by using just a G code command.

【Consultation with Nakamura-Tome】
Nakamura-Tome accepts inquiries from customers. Not only do we accept inquiries about oscillation cutting, we also accept inquiries about products and processing. Please feel free to contact us via the link below.