HAKUSAN, ISHIKAWA – Nakamura-Tome Precision Industry Co., Ltd. (CEO Shogo NAKAMURA) launched a new product, "Compact Loader servo." The Compact Loader is a built-in transport system to load blank materials and unload finished parts, and the new product is a servo type that operates with servo drives on all axes.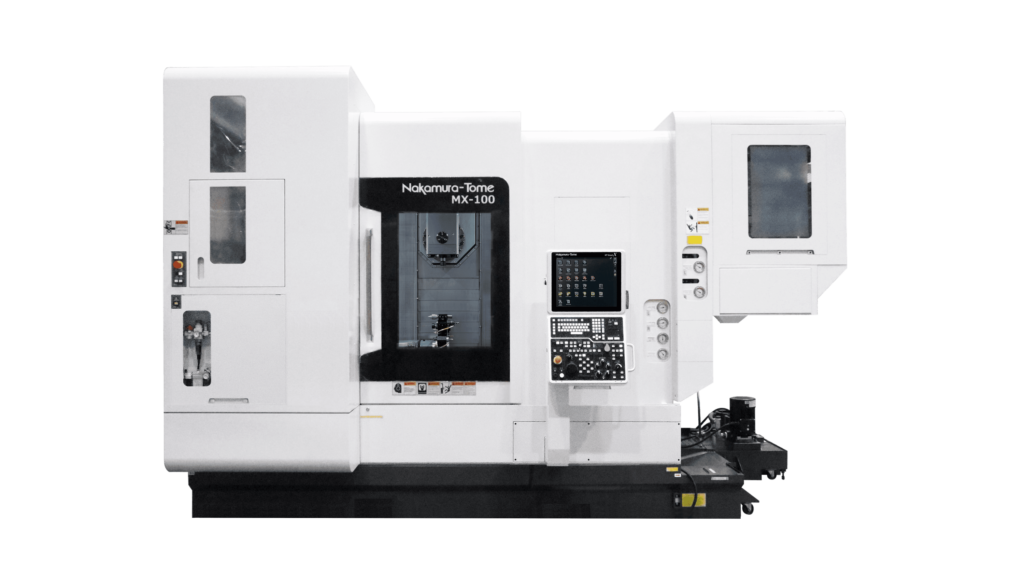 ■Product Information
https://www.nakamura-tome.com/products/compact-loader/
■Development background
The most notable feature of the conventional Compact Loader is that a machine's height remains the same even after being mounted with the Compact Loader, and it has met with a good reputation. However, we also have frequently received requests from our customers for improvement in the setup process. In developing the Compact Loader servo, we have improved the repeated positioning accuracy to be equivalent to that of a gantry loader by changing the vertical axis operation to the servo drive. This change makes it possible to set the teaching point more precisely, thus improving setup performance.
■Comment from Shogo Nakamura/CEO
The Compact Loader servo is a very compact built-in automation system that can be installed without affecting the height of standard machines. This system is very popular with customers whose factory has low ceiling heights, making it difficult to install automation systems such as a gantry loader or with customers who want the flexibility to use the gantry loader system along with a bar feeder. By changing the operation of the system's axes partly from conventional drives to the servo drive, the setup performance has been greatly improved, and the transporting speed has further increased. We hope that the Compact Loader servo will satisfy many customers and cut the burden of manufacturing on the shop floor.
■Ask Nakamura-Tome
https://www.nakamura-tome.com/contact_product/
【Corporate Information】
Company: Nakamura-Tome Precision Industry Co., Ltd.
Address: Ro 15, Netsuno, Hakusan city, Ishikawa, 920-2195 Japan
CEO: Shogo NAKAMURA
Established: December 1960
Website:https://www.nakamura-tome.com/
Business details: Multitasking machine, combined precision CNC lathe

【Reference】
Sales Marketing Section, Sales Promotion Department
Nakamura-Tome Precision Industry Co., Ltd.
Phone:076-273-1111
E-mail:nt-mktg@nakamura-tome.co.jp